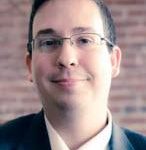 Location:
Troy, Sidney, Lima and Greenville
Phone:
937-497-0407
Email: scott.kelly@rklawyers.net
Scott Kelly has been practicing law since 2007 with fellow attorney Roberta Roberts.  Scott focuses his practice on litigation. He has litigated criminal defense, OVI (DUI), personal injury, and other civil litigation cases in trial courts throughout Ohio as well as in Ohio's district courts of appeals, the Ohio Supreme Court, the US Federal District Courts for the Southern and Northern Districts of Ohio, and the US Sixth Circuit Court of Appeals.
Scott Kelly focuses his practice on criminal and civil litigation. Scott especially has a passion for aggressive DUI defense. He is certified in the NHTSA Standardized Field Sobriety Testing course, and dedicates all of his continuing education time to DUI defense.
Scott is actively involved in several fraternal and charitable organizations in Shelby County, and is especially proud of his work as an elder at Sidney First Presbyterian Church. Scott is also a member of the Ohio State Bar Association, Shelby County Bar Association, and the Ohio Association of Criminal Defense Lawyers.
Scott is a lifelong resident of Shelby County, Ohio. He is a graduate of Houston High School in Houston, Ohio. Scott attended Transylvania University in Lexington, Kentucky where he graduated magna cum laude with double majors in history and religion. Scott earned his law degree with honors from the University of Cincinnati College of Law.
Scott is a frequent contributor to the legal website, avvo.com, and you can find his profile through the link below.
https://www.avvo.com/attorneys/45365-oh-scott-kelly-1716634.html
You can also follow Scott's DUI blog below for up to date information on Ohio DUI laws and cases.
https://westohiodui.wordpress.com/